Delta Omicron Sigma History
The Delta Omicron Sigma Alumnae Chapter (DOS) was chartered July 20, 1975 in Columbus, OH by eight magnificent women seeking to make a difference in the Greater Columbus area through community service and education. These women were: Cheryl Copeland, Goldean Gibbs, Wilma Hall, Barbara Lundy, Mable Mixon, Bessie McGhee, Marcia Sheppard and Cynthia Winchester
As a leading national service organization, it was important to our Chartered members to address the day-to-day challenges of the community through Sisterhood, Scholarship and Service.
The members of DOS embrace the principles of servant leadership. These principles continue to be the driving force for the execution of quality programs which addresses national body initiatives within the greater Columbus community such as Project Cradle Care, the annual SIGMA Youth Symposium and Hattie McDaniel Cancer Awareness & Health Program.
For more than 40 years, Delta Omicron Sigma has become synonymous with excellence, leadership and youth development. Our Chapter exudes talent of more than 30 members ranging from educators to mental health counselors, family physicians, business managers to non-profit directors and more. We advise three Undergraduate Chapters at The Ohio State University, Ohio University and Wilmington College. We mentor girls ages 12-18 through the national Rhoer Club and advise the newly chartered Philo Affiliate known as "friends" of the sorority. We are proud to be recognized nationally and locally for implementing quality programs and events.
On October 20, 2017, #DOSProud welcomed its newest members of N.I.N.E:  Soror Chavela Davis, Soror Shonte Ivey, Soror Yvette Knott, Soror Shiffon Miller, Soror Lisa Nelson, Soror Rebekah Norman, Soror Janee Ruffin-Owens, Soror Bridget Schultz, and Soror Jackie Vincent!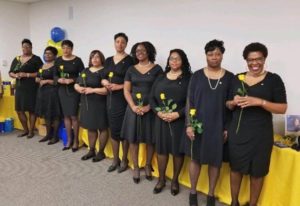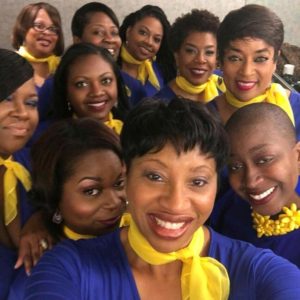 Chapter Accomplishments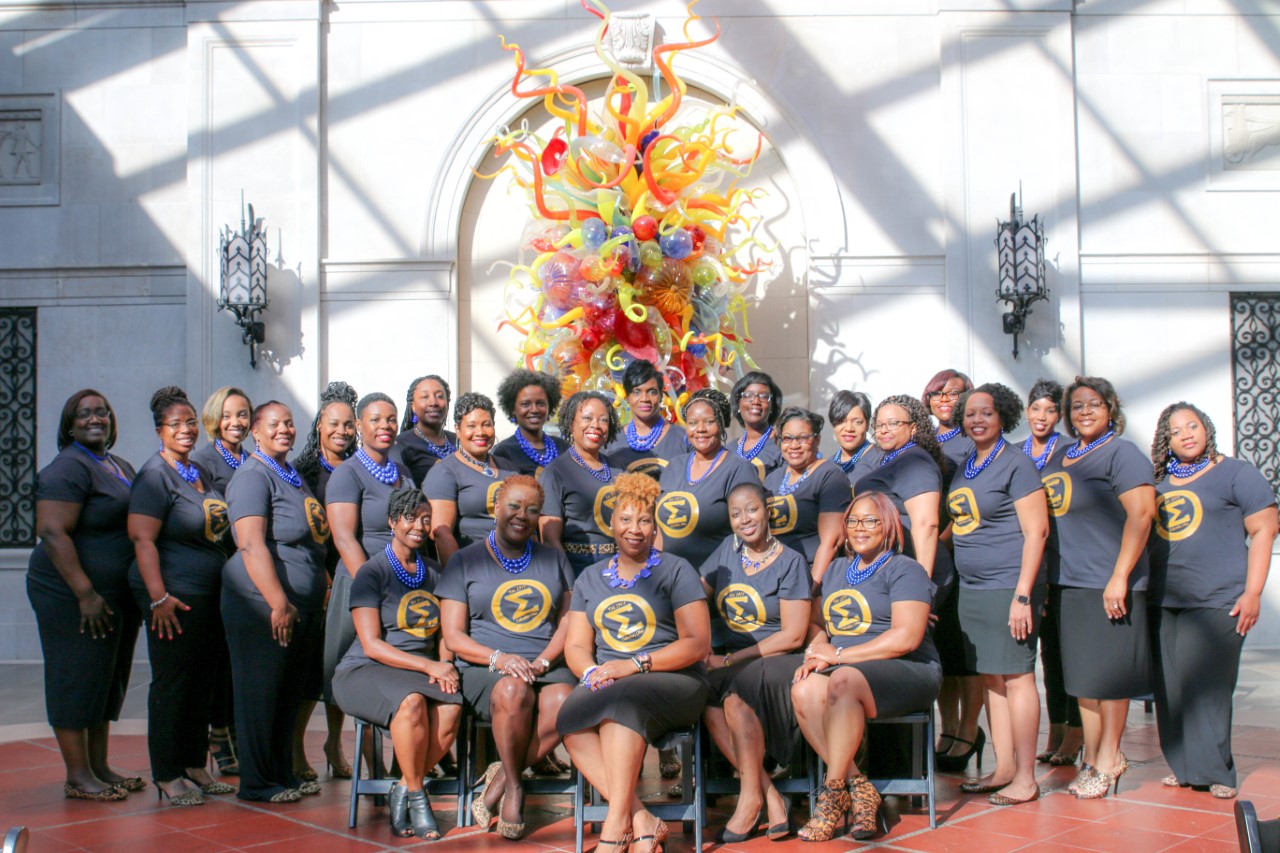 In recent years, our community service programs served approximately 2,000 children and families through food assistance, parenting education, local advocacy and science and engineering tutorial sessions for girls of color.
We proudly hosted the Central Region Conference in March 2015, where we donated $7,500 to local community-based organizations, such as Godman Guild Association - by granting swimwear and supplies for under served youth, the Girl Scouts of Ohio's Heartland and Children's Defense Fund of Ohio. The Diamond Conference, held in Columbus, OH, drew more than 1,100 members and guests, elected officials and representatives from all Divine Nine organizations.
We were the leading collaborators of the city's first Know Your Rights Townhall Meeting with the other Divine Nine Sororities. The forum was inspired by the legacy of our fallen Soror, Sandra Bland. Soror Bland's name made national news for her unanswered death during a routine traffic stop in Waller County, TX. Soror Bland was known for her community activism, leadership and passion for communities of color.
We were the only African-American sorority featured in the inaugural Girls Book, a subsidiary of the Columbus Women's Book, for our outstanding Rhoer Club mentoring program.
We have received accolades from the local 2014 NPHC Unity Weekend for several individual and Chapter awards. In 2014-2015, two of our members were honored by the men of Iota Phi Theta Fraternity, Inc. for their outstanding community partnership efforts. Later in 2016, we served as co-host of the NPHC Unity Weekend where we worked to restore the foundation of the NPHC weekend through integrated activities and service projects.
We are Central Region award recipients for our local community service projects, as well as being recently recognized for local efforts at the 2017 Central Region Conference in Detroit, Michigan for the following:
Certificate of Recognition
Denise Bradley-Johnson
Charmaine Davis-Bey
Domonique Day
Carolyn Dixon
Rhonda Gaines
Jerita Hogan-Williams
Maria Lawson
Dionne Pressie

Ollie V. Green Humanitarian Award
Central Region Leadership Representation
Central Region Nominations Chair - Yvonne C. Freeman
Central Region SPEAR Representative - Charmaine Davis-Bey

Conference Assistants/Supporters
Lynnette Bennett
Dana Johnson
Alisha Milbry
Lynnise Smith
Dr. Angela Tucker
Philo Representation
3rd Runner-Up, Philo President' Pageant - Marcia Bradley Wilson
Alongside the other Divine Nine sororities, we were acknowledged by the Columbus City School Board for serving Columbus City Schools students through signature programs such as the Rhoer Club, SIGMA Youth Symposium, SWIM 1922, Operation Big Book Bag and Girl Scouts.
We are very proud of our collegial efforts with other Columbus Divine Nine Chapters for raising awareness and empowerment programs - such as the city-wide baby shower with the ladies of Gamma Zeta Zeta Chapter of Zeta Phi Beta Sorority, Inc. and Sigma Omega Chapter of Alpha Kappa Alpha Sorority, Inc. during the 28th Annual Candidates' Forum.
Our recent Babes, Boobs & Bagels breast cancer event, in honor of our Academy Award winning Soror Hattie McDaniel, attracted more than 75 women who learned about breast style, size, density, with attendees treated to free bra fittings by Lane Bryant representatives. Guest speakers from OSU Cancer facility spoke about the importance of mammogram checks and maintaining a healthy lifestyle.
During the return of our signature Bowties & Stilettos event, we raised funds to benefit youth development projects for Columbus children and families.
We appreciate the continued support and invite you to also follow us on social media through our Facebook, Twitter & Instagram pages: @614sgrhos.
Sigma Gamma Rho Sorority, Inc. History
Mission Statement:
It is the mission of Sigma Gamma Rho Sorority, Inc. to enhance the quality of life for women and their families, in the U.S. and globally through community service, civil and social action.  Our goal is to achieve greater progress in the areas of education, health awareness, and leadership development.  Our members, affiliates, staff and community partners work to create and support initiatives that align with our vision.
Founders:
Mary Lou Allison Gardner Little
Nannie Mae Gahn Johnson
Bessie Mae Downey Martin
Cubena McClure
Hattie Mae Annette Dulin Redford
Vivian White Marbury
Dorothy Hanley Whiteside
Other Key Facts:
Slogan: "Greater Service, Greater Progress"
Colors: Royal Blue and Gold
Flower: Yellow Tea Rose
Jewels: Pearls and Rubies
Mascot: Poodle
Current National Administration Theme: "Uplifting Our Legacy of Sisterhood, Leadership and Service"
For more information: Sigma Gamma Rho Sorority, Inc. – About Sigma - http://sgrho1922.org/about-sigma