Welcome to the THE Columbus Graduate Chapter Website: Delta Omicron Sigma Alumnae Chapter (DOS) serves the larger Columbus community through Greater Service, Greater Progress. On July 20, 1975 in Columbus, OH, the Chapter was chartered by eight pearls of wisdom seeking to make a difference through community service and education. For over 40 years, Delta Omicron Sigma has become synonymous with excellence, leadership and youth development. We advise three Undergraduate Chapters at The Ohio State University (Delta Phi), Ohio University (Eta Psi) and Wilmington College (Tau Omicron).
We mentor girls ages 12-18 through the Rhoer Club and advise the Philo Affiliate known as "friends" of the sorority. In cooperation with our full Sigma Family, we proudly serve approximately 2,500 children and families annually through food assistance programs, parenting education, breast cancer awareness, Toys for Tots and other community-based services.  We invite you to further explore with us via Facebook, Instagram and Twitter @614SGRhos.
In Service, Yvonne Cherell, Basileus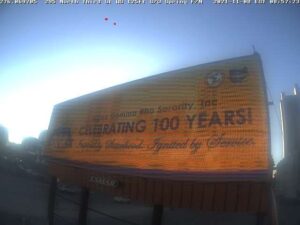 SGR Digital Billboard in Downtown Columbus
On behalf of  Basileus Yvonne Cherrel and Basileus Goodlet of I.N.S., we are happy to share that a digital billboard commemorating Sigma Gamma Rho Sorority, Inc. on the RHOad to Centennial has been erected in the heart of Downtown Columbus, OH!!! We are excited to start our Founders' Week. Looking forward to continued support from our Divine Nine Family.
#SigmaGammaRho
#sgrhocentennial
#DOSProud
#SGRho
**
Sisterhood
From seven young educators, Sigma Gamma Rho Sorority, Inc. has become an international service organization comprised of women from every profession.
Scholarship
Sigma Gamma Rho Sorority, Inc. supports education through: Sigma Public Education and Research Foundation (SPEAR), National Education Fund, Inc. (NEF) and Greater Service Initiative (GSI).
Service
Sigma Gamma Rho Sorority, Inc. commitment to service is expressed in its slogan, "Greater Service, Greater Progress" and the execution of national programs in the Columbus community.